Unmasking the Sunshield: Why Mineral Sunscreens are the Healthier, Eco-friendly Choice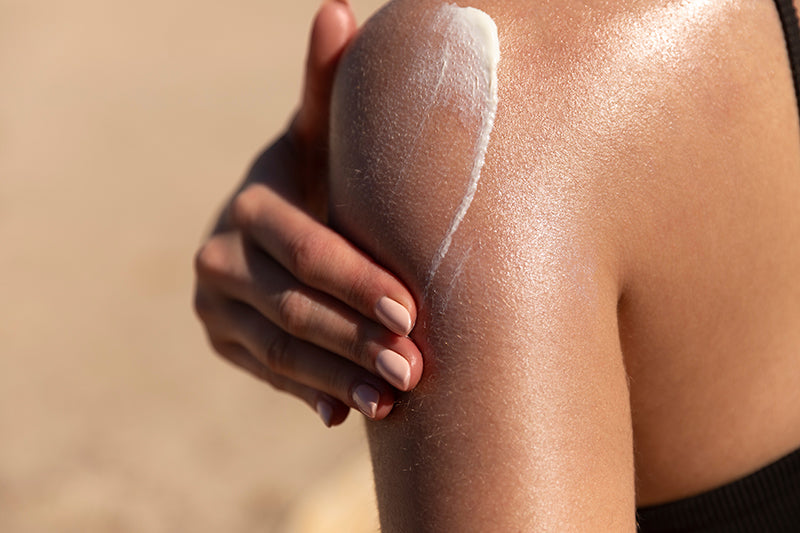 In our quest for healthy, vibrant skin, sunscreen plays a pivotal role. While we love the sun for the warm, radiant glow it brings, its ultraviolet (UV) rays can be detrimental to our skin's health. Sunscreen helps protect our skin from these harmful rays, reducing the risk of skin cancer and premature aging.

Have you ever found yourself wondering what's actually in sunscreen anyway?

This brings us to an ongoing debate in skin care and the health community: Mineral-based sunscreens versus chemical sunscreens.

Follow along as we take a closer look and explore the health benefits of mineral-based sunscreen and the potential risks associated with its chemical counterparts.

Make an informed choice for healthier skin and a healthier planet.
Understanding Sunscreens
Consumers can buy many different types of sunscreens, and the companies that market these sunscreens promote many terms to describe the effectiveness of their products. I'll get to these differences in just a bit.

But first, what is sunscreen?

Sunscreen is a lotion, gel, or spray that absorbs or reflects some of the sun's ultraviolet radiation, helping protect the skin from sunburn and other skin damage.

Mineral-based sunscreen deflects UVA and UVB rays while chemical sunscreens absorb UV rays resulting in a chemical reaction within the skin.
What are the big differences between mineral and chemical sunscreen?

Chemical Sunscreens: The most common type, work by absorbing UV rays. They contain organic (carbon-based) compounds, like oxybenzone, avobenzone, octinoxate, and octisalate, which create a chemical reaction to convert UV rays into heat, which is then released by the skin.

Mineral-Based Sunscreens: Also known as physical or inorganic sunscreens, shield the skin from Ultraviolet radiation. They sit on the skin's surface and deflect UV rays. These sunscreens contain active mineral ingredients, such as zinc oxide and titanium dioxide.

JOIN THE SUPERVITAL
Get all the latest news and updates by subscribing to The Supervital Journal by Best Health Co! Join today and receive 25% OFF your first order 🍄
The Debate: Mineral-based Sunscreens Vs. Chemical Sunscreens
Chemical and mineral sunscreens are not created equal. They have different active ingredients, work differently on the skin, and have unique health and environmental implications.
Health Risks of Chemical Sunscreens
Recent studies have brought to light potential health concerns associated with chemical sunscreens. Current active ingredients in sunscreens, like oxybenzone, avobenzone, octinoxate, and octisalate, have been found to penetrate the skin and enter the bloodstream, even after ONE application. [8]

Yikes!

These chemicals have been associated with endocrine disruption, affecting hormone levels and leading to health issues. Other studies have reported finding sunscreen ingredients in breast milk, urine, and blood plasma samples. [7-9]

Double Yikes!!

In response to these findings, the FDA is seeking additional data to establish the safety and effectiveness of these ingredients. [6]
Health Benefits of Mineral-Based Sunscreens
In contrast, mineral-based sunscreens offer a safer alternative. Zinc oxide and titanium dioxide, the active ingredients in mineral sunscreens, are recognized as safe and effective by the FDA. These minerals are not absorbed into the skin; they sit on the surface, acting as a physical barrier to block UV rays by deflecting them back into the atmosphere.

Mineral sunscreens are less likely to cause skin irritation, making them a preferred choice for people with sensitive skin or conditions like rosacea. Additionally, they start working as soon as they're applied, whereas chemical sunscreens need about 20 minutes to become effective.

Furthermore, mineral sunscreens are considered more eco-friendly. Chemical sunscreens can damage coral reefs, leading some regions to ban certain chemical sunscreens. On the other hand, mineral sunscreens made with non-nanoparticles are deemed reef-safe. [6]
Why is non-nano zinc oxide the best choice for mineral-based sunscreens?
When applied, zinc oxide forms a shield and sits on the outermost layer of your skin. It scatters, reflects, and deflects Ultraviolet radiation protecting your skin below. Zinc is unique in that it protects our skin from and blocks UVA and UVB rays making it the definition of a broad-spectrum sun blocker. In comparison, Titanium dioxide, another popular mineral active ingredient in sunscreen, protects against UVB rays only.
What To Look For In A Mineral Sunscreen
When shopping for mineral sunscreen, look for broad-spectrum on the label, which means it protects against UVA (aging) and UVB (burning) rays—also, an SPF of 30 or higher for adequate protection. Water resistance is another important feature, especially if you're swimming or sweating.

The term non-nano refers to the size of the zinc oxide or titanium dioxide particles. Non-nano particles are physically larger than nanoparticles and don't penetrate the skin, which can cause toxic side effects or harm marine life, making them a safer choice. [1-5][10]

Unfortunately, the inactive ingredient list in many mineral-based sunscreens can include synthetic fragrances, propylene glycol, PABA, and alumina. Just in case you are wondering, alumina is also known as aluminum oxide and is used in certain 'natural' sunscreens to help with smooth application. Avoiding aluminum, parabens, and phthalates in personal care products is best. [11]
Our Picks: The Best Mineral-Based Sunscreens
We are most excited about these highly-rated sunscreens due to their commitment to clean and organic ingredients while exceeding expectations and protecting the environment.
RAW Elements sunscreen uses 23% non-nano zinc as the only active ingredient yielding broad-spectrum protection. The natural and organic ingredients are moisturizing and soothing as it is applied.

We can verify that this one feels amazing while it's on your skin.

RAW Elements never runs or stings the eyes and is the ultimate in water and sweat performance. It is safe for all ages, hypoallergenic, and never includes artificial fragrances, preservatives, or chemicals.

Certifications and other notables include:
• Non-GMO Project Approved
• Leaping Bunny Certified
• EWG #1 Rated
• Natural Products Association Certified
• Made in the USA.
Two Peas Organics, based in Santa Barbara, CA, was born from the desire to offer healthy and natural sunscreen options other than the chemical sunscreens lining the shelves for themselves and their family.

Being outdoors is core to the ethos of this company. The ingredients in traditional sunscreens can be harmful to health and the environment.

Their sunscreen safely utilizes the power of non-nano zinc to deflect the harmful UVA/UVB rays that the sun produces. Two Peas Organics sunscreen is chemical-free, reef safe, and perfect for everyday use for the entire family. So go ahead, enjoy life in the sun!

They offer SPF 30 and SPF 50 options made in the USA with organic ingredients that are conditioning, moisturizing, and soothing to the skin. Their products are free from artificial fragrances, PABA, parabens, phthalates, BPA, oxybenzone, avobenzone, petrolatum, or 1,4-dioxane.
Badger has been family-owned and operated since 1995. They offer broad-spectrum and water-resistant ACTIVE SPF 30, SPORT SPF 40, ADVENTURE SPORT SPF 50, and sensitive skin SPF 35-40 for kids and babies.

Their nourishing and antioxidant-rich products are made with clean and organic ingredients, using clear zinc oxide as the active ingredient.

They are hypoallergenic, gluten-free, unscented, and gentle on sensitive skin. Their products are made in the USA with solar to power their manufacturing facilities.

Badger also offers premium after-sun care products that are stellar and definitely worth the price of admission.
Final thoughts
In the world of sun protection, not all sunscreens are created equal. Mineral-based sunscreens offer a host of benefits over chemical ones. They are safe, effective, kind to sensitive skin, and eco-friendly.

As we continue to learn about chemical sunscreens' potential health and environmental impacts, the shift towards mineral sunscreens is becoming a clear choice for many.

So, the next time you shop for sun protection, consider going the mineral route for a healthier, safer sun-soaking experience.

Protecting your skin from the sun doesn't have to come at the cost of your overall health or the environment. Make an informed choice, and you'll feel that much better about stepping out into the sunshine.
BESUPERVITAL®
We are huge fans of optimizing our daily interactions across the physical, mental, and emotional spectrum, fostering a lifestyle promoting Supervital Active Longevity.

We can control what we consume and apply to our bodies. We take a holistic approach to nourishment that includes our dietary intake and the mindset we adopt.

Our life strategy is designed as a catalyst, primed to amplify our potential and support aspirations—a foundation to remove distractions and conquer the obstacles in your path.

We invite you to join us on this journey via The Supervital. Join the movement, Besupervital®.
Founder of Best Health Co & The Supervital Journal. Topics focus on the mind, body, & soul aspects of Supervital Active Longevity. Dr. Gerhart enjoys studying the latest developments in biochemistry, phytochemistry, epigenetics, & aging.
@traviswgerhart • @besthealthco
*Statements made on this website have not been evaluated by the U.S. Food and Drug Administration. These products are not intended to diagnose, treat, cure, or prevent any disease. Information provided by this website or this company is not a substitute for individual medical advice.
JOIN THE SUPERVITAL
Get all the latest news and updates by subscribing to The Supervital Journal by Best Health Co! Join today and receive 25% OFF your first order 🍄